LaRod Stephens-Howling: Kickoff Returns and Celebrations
Posted by
Joe Shuta
on Dec 27th, 2017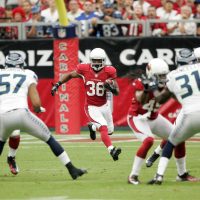 LaRod Stephens-Howling (Johnstown, Pa. H.S., Pitt., Arizona Cardinals, Pittsburgh Steelers, Running Backs Coach at Robert Morris University) led the NFL in kickoff return yards in 2010 that included a 102-yard opening kickoff return against the Oakland Raiders.
He explains the keys to successful kickoff returns and his opinion on end zone celebrations.
Photos courtesy of Arizona Cardinals, Robert Morris University Athletics and the Pittsburgh Steelers.