Classic Myron Cope Story
Posted by
Joe Shuta
on Nov 20th, 2017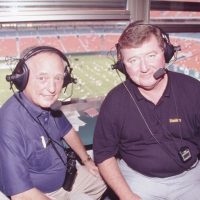 Long-time play-by-play announcer for the Pittsburgh Steelers and Pitt Panthers, Bill Hillgrove, relates a classic Myron Cope story.
Cope was the color commentator for the Steelers for 35 years and filled in for one year on the Pitt Panthers' broadcasts.
Hillgrove photo courtesy of Pitt Athletics and Cope & Hillgrove photos courtesy of the Pittsburgh Steelers.